With words and photos, Jaret Reddick from Texan pop punk giants Bowling For Soup and his People On Vacation bandmate Ryan Hamilton (who supported) talk us through their recent UK trip.
They had one hell of a time with tattoos, perving and eyebrow incidents. Read on to find out more...
Northampton 26/3
JARET:
Our first trip to this city...Kinda hard to believe after 30 trips across the pond...The club was historic and cool...I didn't get a chance to walk around town at all, which bummed me out, but I can say that the fans were awesome and the show was GREAT....Lots of new faces, which is never a bad thing...I think we had some kinks to work out, being the first night, but all in all, everyone played and sang well....What a great start!
RYAN POV:
Our return to the UK started in Northampton. I made the mistake of misspelling it, 'Northhampton' via Facebook, and our UK friends were quick to point out my mistake. Haha. Luckily, they were quick to forgive me and we prepared for our first show. By 'prepare' I mean, ride a fiberglass Rhino in the Northampton mall. (see pic). Aside from a few first show nerves, the show and the people couldn't have been better! it was a great night.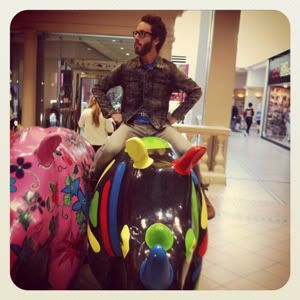 Ryan in Northampton
Glasgow 27/3
JARET:
Well, I woke up early cause I needed a toilet RIGHT AWAY! After this emergency was taken care of, I decided to sleep another hour....I think the first two nights off in London were a little evil....We tend to go out and over do it on nights off...Rock band....Go figure...
Originally the show was booked for King Tuts, but we sold enough tickets to move it to a bigger venue....Never a bad thing!
Honestly, I seem to remember Glasgow crowds being loud, but this night was insane! Everyone sang every word to the songs...Even the ones we thought were so old we would be the only ones that knew them
RYAN POV:
Our 2nd show was in Glasgow at a beautiful converted church called Oran Mor. I'd never been to Glasgow before, but fell in love with Scotland last year in Edinburgh. I was SO excited to return, and our wonderful Scottish friends didn't disappoint. Every once in a while a show can be (for lack of a cooler word), magical. It's rare for a crowd to be so great that it brings me to tears, and it may not be "cool" to admit it, but those wonderful Scottish people made me cry... in the best way. 
We also had the privilege of having the great tattoo artist Darren Hubbard (from Old Sarum Tattoo) on tour with us. I'd wanted a Bob Dylan portrait for years, and finally found someone I trusted enough to do it. Check it out!! (see pic)
2 shows in, this tour already feels like something special.
Can't wait for the next one!!
Manchester 28/3
JARET:
My favorite city in the world to play ... I say it every chance I get ...There is something about the crowd here and Bowling for Soup...We are like Peanut Butter and Jam....Delicious!
I started the day early...Our friend Darren Hubbard from Old Sarum Tattoo was on the road with us for a few days (
http://www.facebook.com/OldSarumTattoo
), and it was my turn to get some stuff!
Darren tattooed Waylon Jennings on me last year, and I was supposed to get WIlle Nelson as well...But I was freakin sick as shit and couldn't sit longer than Waylon took...So today, I got a brand new "Willie"!!!
It wasn't long after my tattoo that the VIP started...Then it was show time...Erik KILLED ... It was amazing to see all the folks singing the POV songs, even the unreleased ones.
From the first note Erik and I played, the crowd sang along to BFS...Most of the time, louder than we were...It was magical....One of my favorite shows EVER...And that is a long list...
Roll on October Manchester!!!
Jaret in Manchester
York 29/3
JARET:
I NEVER do touristy shit....
I have been to the UK 30 times, and sorta just feel like I have seen most of it...
But leading up to York, EVERYONE kept telling me that I needed to get out and see the sites....
So I did just that....Ryan was up early and scouted the place...So when I got up and around, he took me on the tour and it was amazing...
So much culture and history in such a SMALL area....
The club was REALLY nice...Always nice when there is a toilet and shower that work properly and don't require 12 flights of stairs!
This was a really fun show....
here is a song I made up at Soundcheck that my friends joined in on!
http://www.youtube.com/watch?v=7YLw9sbLT2A
RYAN POV:
I'd never been to York before, but I LOVED it. The show was amazing. They were my favorite kind of audience. Really quiet when we played, and really loud when the song finished!
I love that combo... attentive yet excited.
I also got to do (to quote my friend Jaret) "touristy shit". I love walking around a city I've never been to. The city was beautiful, and I'm a sucker for a place that has a cool history like York. We don't have anything like a walled city in Texas. We also don't have beautiful, large sized Cathedral's. . . or "churches". . . or whatever you guys call it over there. (see attached pic)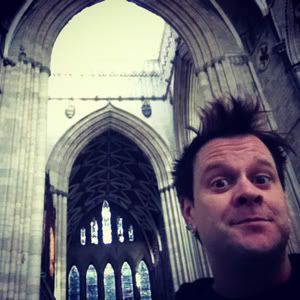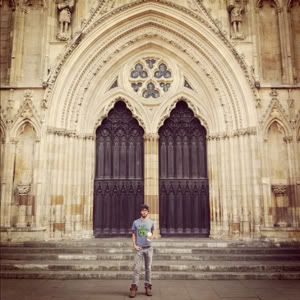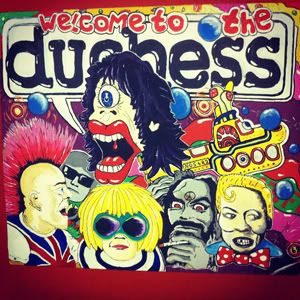 Birmingham 30/3
JARET:
Birmingham is ALWAYS busy...But also AMAZING crowd wise!
I always look forward to playing in the hometown of METAL...Plus, everyone talks like OZZY and I speak "OZZY"....
I was excited to play the SLADE cover "Cum on Feel The Noise" here...We did it during the POV set and everyone sang SO loud...It was amazing...
Our friend James Stant joined us on stage that night to play some cello during POV.... Damnn the cello is awesome!!
Erik and I had a blast as well....Lotsa requests....We even played some of them!!
Here are some photos from a taxi!

RYAN POV:
The Birmingham show was so much fun! Those people know how to party. I'm pretty sure they sang every single word to every BFS song. (they also sang quite a bit of the POV set. . . which was AMAZING... and goose bump inducing).
I got to walk around the market for a bit... to do more "touristy shit". Vendors were yelling. People were shopping. It was a happenin place! A little too happenin for me. So I avoided the inevitable panic attack and escaped to Starbucks.
It amazes me that people in the UK have grown up with... and are apparently used to, scenes like the attached pic from a Starbucks patio!! Beautiful.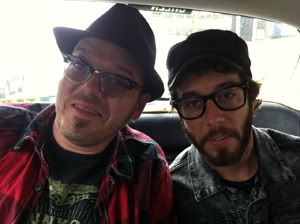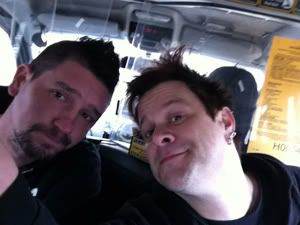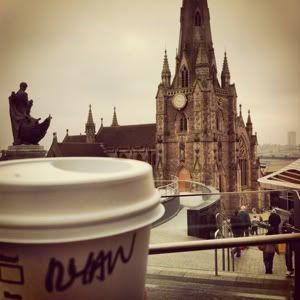 Southend 31/3
JARET:
I woke up late....We drank a LOT the night before and you could feel the tour was starting to heat up....I think I slept until about 6pm , because I knew we had late doors....and also because I drank my weight in vodka the night before with our merch guy Marco....
Marco is the best! He just started touring with us last year....He is seriously just a dude we met on tour and became friends with....We needed a merch guy, and Gary said "What about Marco"...DONE....
He is the best to hang out with after the show because he is totally sober and will stay up super late...Plus, he likes the same movies as me...
Anyway....I woke up and said, "How's the dressing room?" and the looks I got were hilarious...The dressing room was fine, but it was leaning about 40 degrees in one direction...If you were to drop an apple on the ground, it would be hard to catch it before it hit the other side of the room!
The show was cool...You could tell that most people hadn't seen us before, and that was just fine...
A young couple in front of us were getting freaky all night...Which was a little awkward....I mean they were 3ft away! Hopefully everything went smoothly for them later...
We finished the night with some drinks at the bar...Our bus driver Billie is amazing! He just lets us hang as long as we want, and then starts the bus when we get on board!!
Thanks Southend! Our first time in your city....Good times!
Check out the photo I took of Erik from side stage below!
RYAN POV:
I have to be honest. I got up to do more "touristy shit" when we arrived in Southend. I quickly became afraid for my life and ended up back on the bus. Haha. Okay, semi overdramatic... yet true!
Southend reminded me a lot of Asbury Park in the States.
Anyway, I ended up spending most of the day on the bus and spying on the interesting people of Southend (see attached pic). One of our UK friends said it looked like I was "pervin". I was not aware of this word, and once it was explained to me I felt a strange combination of shame and education. Haha.
I should have known this was going to be a rowdy show. It was rowdy in the best way!! Those people were drunk, and loud and awesome!
For me, the Southend show was definitely the surprise of the tour. I like surprises.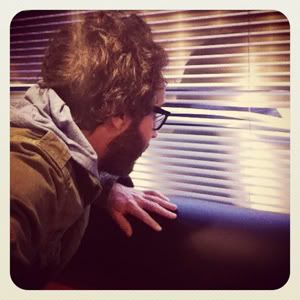 London 1/4
JARET:
London is what it is....Just an awesome, diverse, and really cool place to be....
We started the tour with two, very rare, nights in London and had a blast....
I began the day with Ryan, Kate, Matt and Marco on an excursion to Camden Town...
I hadn't been to the market in a few years...Rest assured, it had not changed...Except the main item peeps are selling is Tshirts...
Some highly illegal copyright infringements are rampant, but fuck it...People make fake BFS shirts, so why can't I get a "Booger King" shirt, you know?
The KOKO is one of the coolest thaters in the world...I absolutely LOVE playing here....
The show was amazing, and there was an "eyebrow incident"...
Here it is...
http://www.youtube.com/watch?v=a2Dy7MYEgek
RYAN POV:
Arrived in London with a hell of a hangover, but that didn't stop me from getting up early and (once again) satisfying my inner tourist.
To my AMAZEMENT, Jaret got up and joined me for some "touristy shit"!! We found a shirt that he found quite funny... okay, okay... I thought it was funny too. (see attached pic)
It was the last show of the tour. It was full of sing alongs, hugs and tears. I was sad to go.
The show also included Jaret shaving Erik's eyebrows off... but I'll let them explain THAT.
(or you can just go watch the YouTube video)
I love the UK, and I miss it already.