It's a sad day as we post up the final ever issue of Big Cheese magazine after 20 years of punk, rock and metal chaos!
However, we're celebrating in style with this bumper collector's edition full of classic interviews from over the years with all your favourite bands!
Plus, keep your eyes peeled for a return in a slightly heavier form later this year and under a new name.
Also, check out our sister publications -
VIVE LE ROCK
and
LOUDER THAN WAR
Thanks so much to all our incredible readers. You all rock!
(subscribers will be contacted in the coming days about options)
The final issue of Big Cheese (no.179) is out now!!!
PRE-ORDER NOW RIGHT HERE AND GET A FREE RISE RECORDS CD!!! (while stocks last)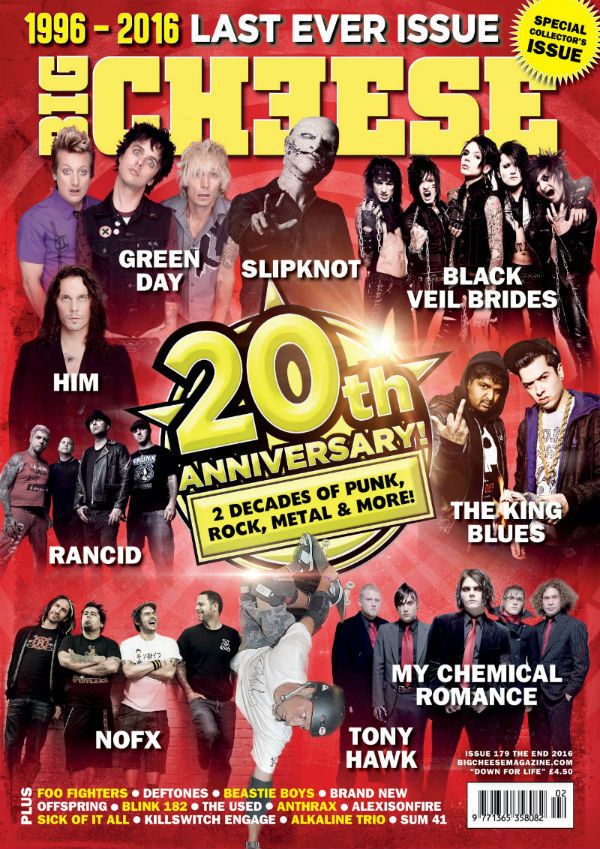 LAST EVER ISSUE!!! 1996 - 2016
BIG CHEESE ISSUE 179
20th ANNIVERSARY
TWO DECADES OF PUNK, METAL & MORE!
GREEN DAY
BLACK VEIL BRIDES
RANCID
MY CHEMICAL ROMANCE
NOFX
THE KING BLUES
HIM
SLIPKNOT
TONY HAWK
FOO FIGHTERS
DEFTONES
BEASTIE BOYS
BRAND NEW
THE OFFSPRING
BLINK-182
THE USED
ANTHRAX
SICK OF IT ALL
ALEXISONFIRE
KILLSWITCH ENGAGE
ALKALINE TRIO
SUM 41
and more!!!
PRE-ORDER YOUR COPY TODAY HERE!!!