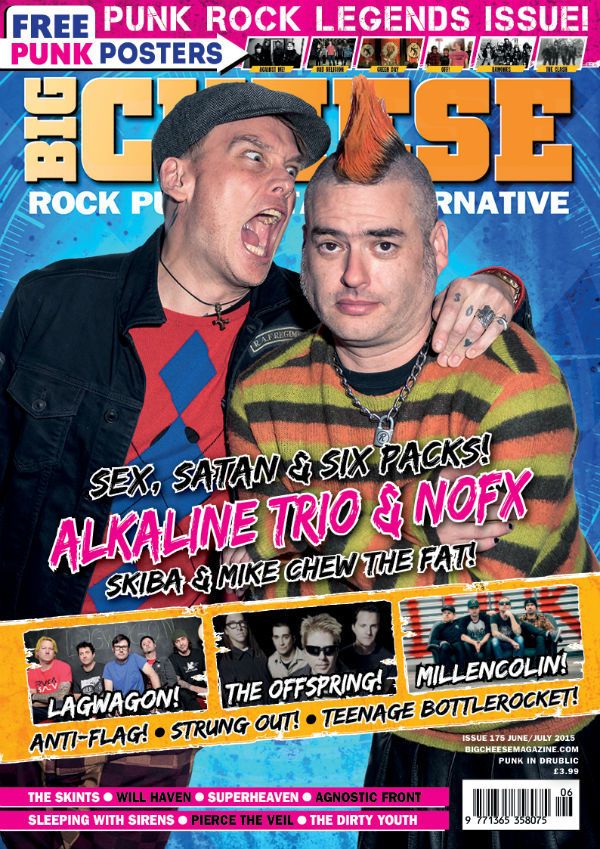 THIS IS A BIG ONE!
The pre-order for our special punk rock legends issue is up now and features NOFX's Fat Mike and ALKALINE TRIO's Matt Skiba on the cover.
We did an exclusive cover shoot with the guys in LA and they interviewed each other about sex, Satan and six packs!
Ahead of their upcoming co-headline tour in June/July, this cover feature is as hilarious as it is special!
There's also punk posters of the likes of AGAINST ME!, BAD RELIGION, GREEN DAY, OFF!, RAMONES and THE CLASH!
Then we've also got features on other punk rock legends, including LAGWAGON, THE OFFSPRING, MILLENCOLIN, ANTI-FLAG, STRUNG OUT and TEENAGE BOTTLEROCKET, as well as looking back at the history of the UK's much missed DECONSTRUCTION FEST.
Also in this issue are:
THE SKINTS
WILL HAVEN
SUPERHEAVEN
AGNOSTIC FRONT
SLEEPING WITH SIRENS
PIERCE THE VEIL
THE DIRTY YOUTH
ARE YOU LISTENING? FEST
& more!
There's also album reviews of huge releases from FAITH NO MORE, YOUNG GUNS, ANTI-FLAG, MATT SKIBA AND THE SEKRETS, DESAPARECIDOS, SILVERSTEIN, FOUR YEAR STRONG, BABY METAL, FRANK CARTER AND THE RATTLESNAKES, ROLO TOMASSI, TOM DELONGE, THY ART IS MURDER, WILL HAVEN and many more!!!
PRE-ORDER YOUR COPY HERE
IN SHOPS FROM TUESDAY 26th MAY.